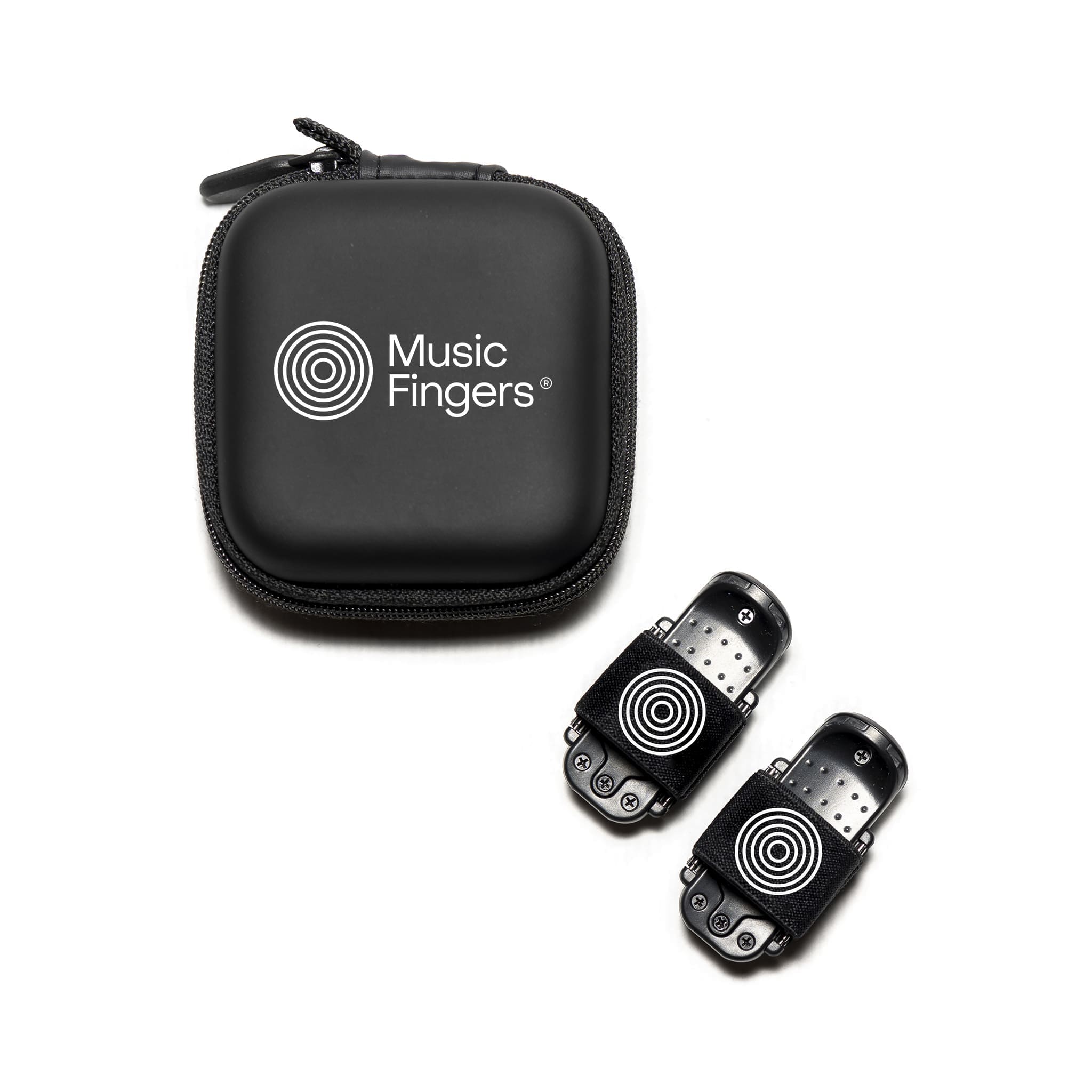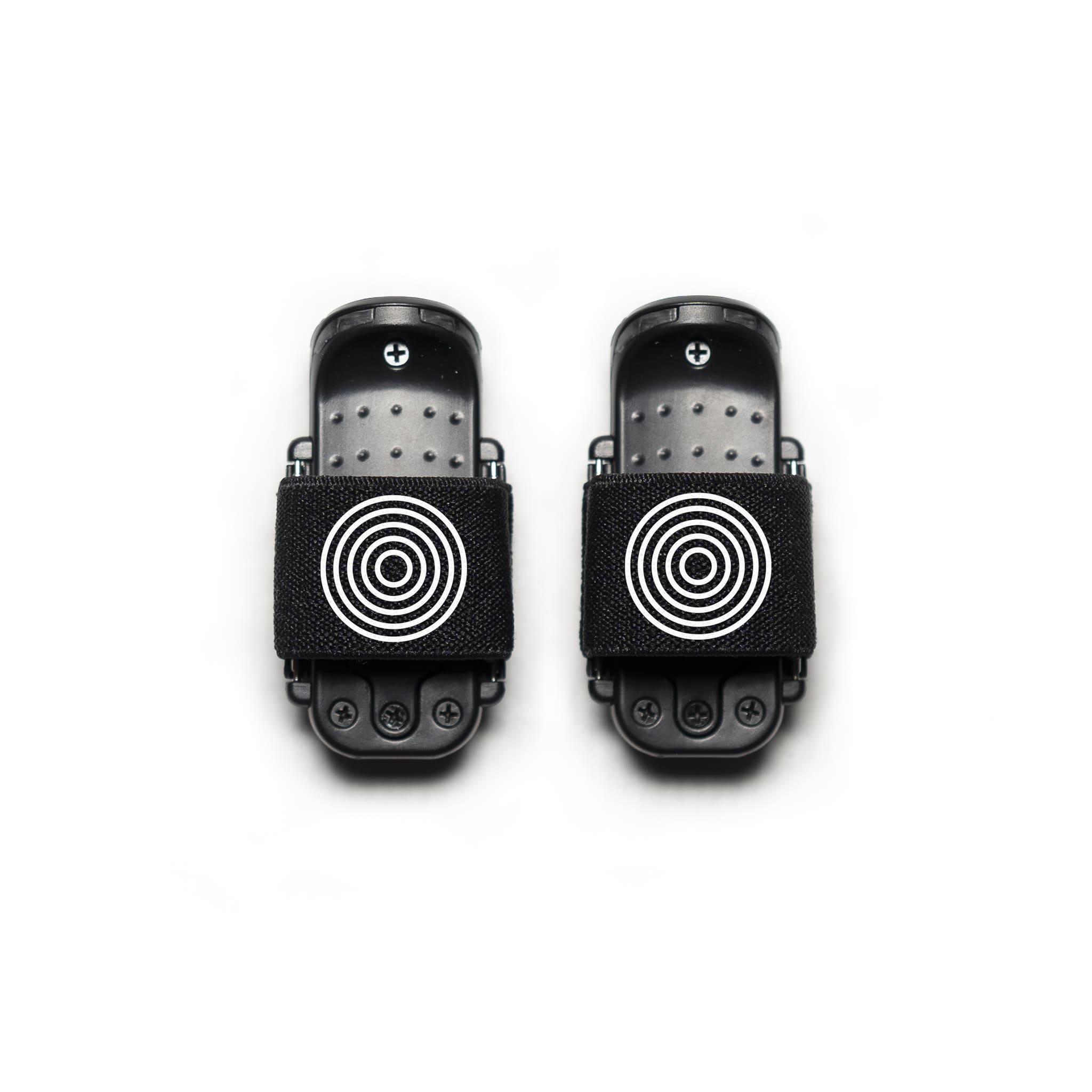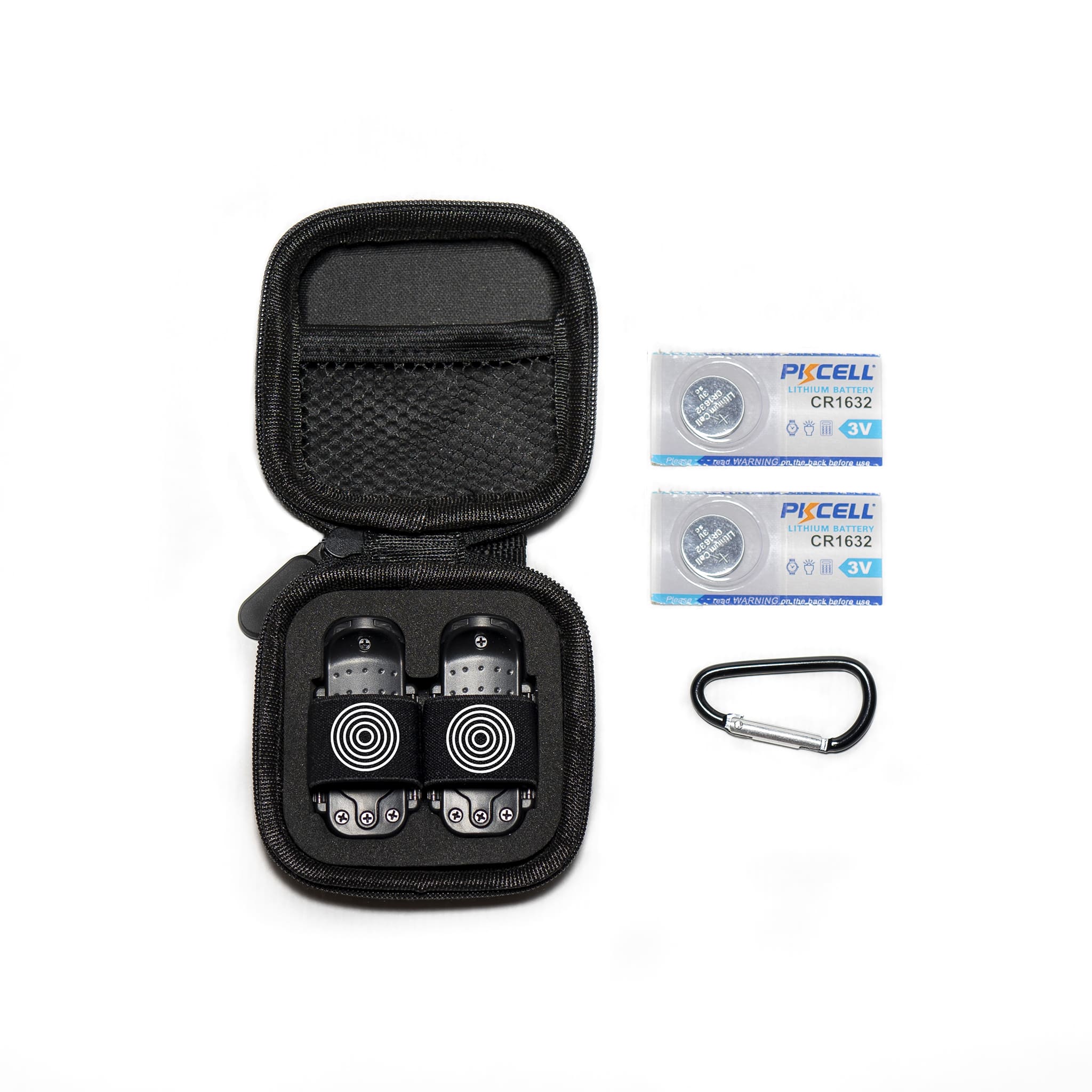 Music Fingers® Gift Card
---
Your very own set of Music Fingers + playable content in the Music Fingers® App.

In the box | 1 Set of Music Fingers®:
· Devices x2
· Complimentary batteries x4 (for extra durability)
· Protective case x1 (designed for an active on-the-go lifestyle)
· Complimentary action hook & retainer x1
(ready to clip & go on casual activewear & carry-on equipment)
Video demos
Thinking about how to enjoy your Music Fingers®? Here are some examples of how to play just by tapping along.
Dimensions
53 (L) x 25 (B) x 29 (H) mm
Power Supply
1x CR1632 3V Lithium Coin Battery (batteries included)
In the box: 
Music Fingers® device + batteries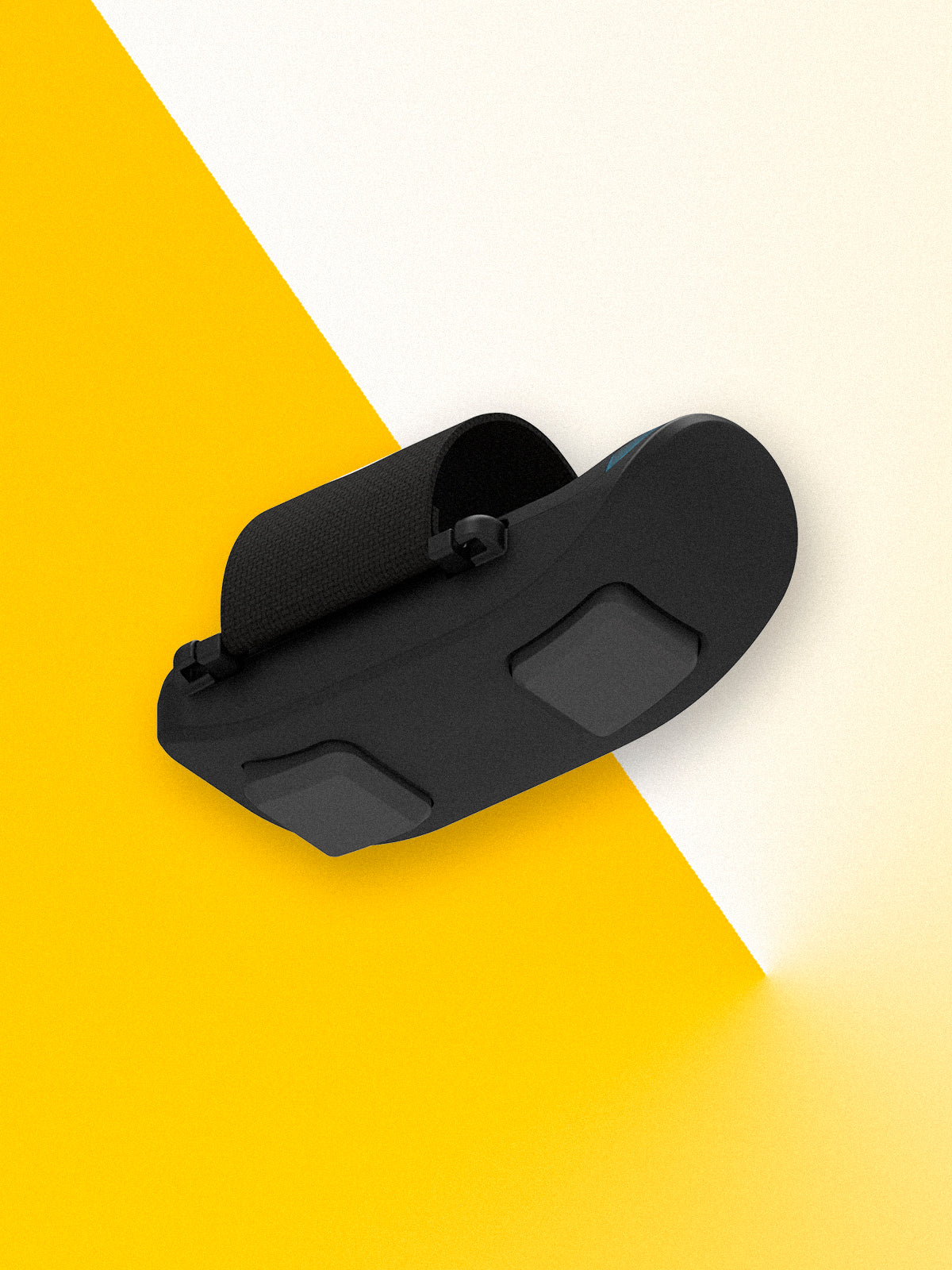 Put on your Music Fingers®
Music Fingers®
The superpower of playing music with your fingers
A wearable device that literally lets you create music only with your fingertips, no instruments needed. A disruption in the music industry.
Music Fingers Puts Music-Making at the Fingertips of Users No Matter Where They Are The lightweight, wireless device allows for freedom of movement and fits any sized-hand. The wearable instrument allows users to create sounds and songs with the tap of a finger.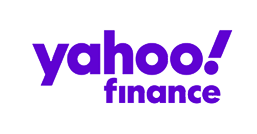 Music Fingers is a wearable instrument and playful technology that's designed to create music and to play along just by tapping your fingers.
Music Fingers is the new wearable instrument that everyone can play it's easy to envisage Music Fingers enthusiasts pushing the boundaries to offer all levels of musicians the ability to make music anywhere at any time.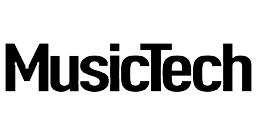 Music Fingers let you easily create music with your fingers. A unique gadget designed to help you play music by tapping along.

Allow yourself to feel the music in a different way. It's an easy-to-use app that will bring out the artist in everyone. A quick way to create music simply.

A new device or gadget that allows you to play music with the tips of your fingers. The idea is really cool.
Have a question ? We are here to help!
Check out the most common questions our customers asked. Still have questions? 
Contact our customer support.
Why should I back Music Fingers®?

Music Fingers® is a project, a campaign, a product but also is it the story of a group of friends who love music and thought music should be enjoyed by more people! Our pledge is that everyone can play music, and our project is the means to achieve it. Most of us don't have the time to learn how to play an instrument, but we all dream of playing music! Plus, instruments are pricey and sometimes too big or heavy to carry around. For that reason, we came up with Music Fingers®, so that everyone can play without the fear of failure or the thousands of dollars invested in lessons and instruments: just tap your fingers and play music!
How long will it take to get my orders?

We ship Music Fingers® all around the world. Please, check out the estimated arrival time for each country and the shipping costs on the Shipping Info page.
No. For now we don't offer than option, but we could consider it for future releases.
Is it open source or open hardware?

Up until now we have developed both our app and device with the help of our Music Fingers® team, but we do not exclude the possibility of working open source and/or open hardware in the future.
Does Music Fingers® have an audio exit?

Music Fingers® does not come with an incorporated speaker, but you can listen to all the music you're playing from your cell, or any other listening device connected to your smartphone.
Can I adjust my Music Fingers® to the size of my fingers?

Music Fingers® comes with an elastic band so you can adjust your device to your finger; however, we will be launching three different sizes (Small, Medium, Large) to guarantee the handiest use!
Who can answer my questions?
Does it come with a guarantee or warranty?

Yes, it will come with a 2 year warranty.
Is the Music Fingers® App free?

The Music Fingers® App download is absolutely free and is available for Android and iOS. However, we may include other premium paid content in the future.
How many sounds can Music Fingers® play?

In Music Fingers® we believe "the more, the better", you can play as many sounds as you wish! You can begin with the samples and loops our app offers, but also you can upload your own. Don't let your inner genius down!
Do you ship to all countries and are there any shipping costs?
Can I create samples and loops from the beginning?

As many as you wish! You can select a sample or loop from our app, but you can also can upload your own sounds. The possibilities are endless!
Have you developed an app web for Music Fingers® App?

Not yet! Music Fingers® can only work from its native App.
How many gadgets will I need to startup playing?

Our standard pack comes with 2 devices, two fingers with which you can play up to 4 samples or loops simultaneously. You can combine up to 10 Music Fingers® however you want!
How do I link my Music Fingers® to my smartphone?

You don't have to worry about this, the app will guide you. All happens inside the app. No need for fiddling with the phone settings!
How many hours do the batteries last?

Our batteries last around 120 hours with an intensive use of the device, and up to 320 hours with the battery at rest.
Can I connect my Bluetooth headphone to my smartphone while using my Music Fingers®?

No, using bluetooth headphones adds latency to the sound, so it's not feasible and currently not supported. Wired headphones are the ones you could use.
Does my Music Fingers® come with a protective case or cover?

Yes! We designed an awesome case so your Music Fingers® will be safe anywhere you take them.
What is the recommended age for using Music Fingers®?

Music Fingers® is for anyone over 5 years old!
What happens if my Music Fingers® stop working?

If it's a manufacturers defect, we will send a new pair of Music Fingers® to you.
Play music just by tapping your fingers